TRIP TYPE


DESOLATION SOUND KAYAKING EXPEDITION
Tour Overview
Experience the wilderness and coast mountain ranges of British Columbia on a Desolation Sound kayaking tour. An all inclusive, professionally-guided sea kayak expedition where we provide it all. You won't even need to bring your own sleeping bag.
Escape from the Ordinary
Ideal for first time or less experienced kayakers, the Sound's calm waters allow you to effortlessly paddle through narrow inlets while gazing up at the majestic mountains above. In addition to the spectacular scenery, you will find swimming in these warm waters to be an extra bonus on your amazing camping and sea kayaking vacation and tour.
Embarking on a Desolation Sound Kayaking Tour is a perfect escape from busy city life. Established by the B.C. government in 1973, Desolation Sound Marine Park consists of more than 14,000 acres of highland and 60 km of shoreline. It is the gateway to the Coast Mountain Inlets of British Columbia.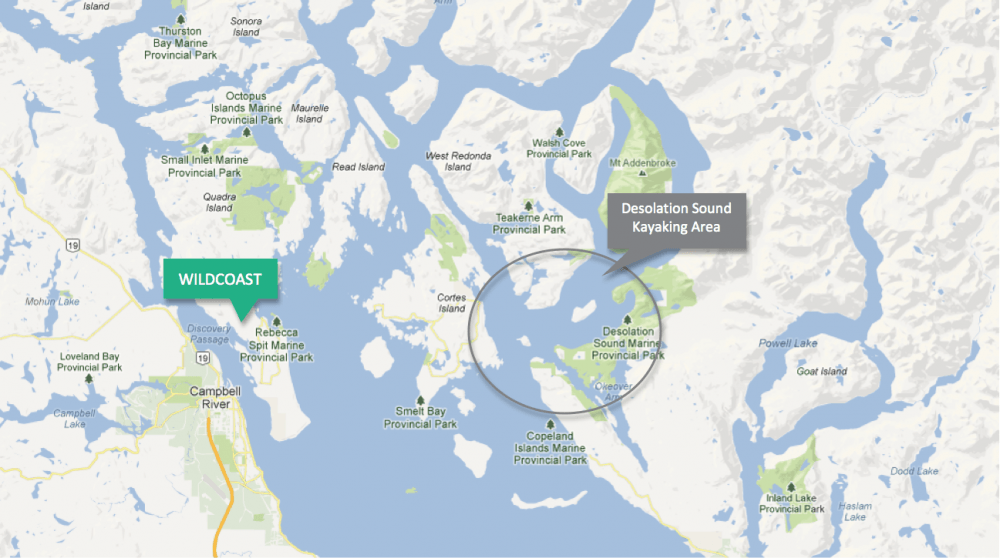 Coastal Cuisine
We strive to make your kayak vacation a trip of a lifetime.  We know an important part of this experience is delicious, hearty, and plentiful food.
For our Desolation Sound Kayaking Tour we enlisted a local gourmet chef to design the menu and train our guides to be excellent wilderness cooks.  Fresh meals prepared each day will leave your belly full and ready for all the adventures the new day brings.
Quality Expedition Tents & Warm Sleeping Bags
All gear needed for your trip (kayaks, paddles, tents, & dry bags) is included in the Desolation Sound Kayaking Tour trip price. Our equipment is kept in top-notch condition. From toasty sleeping bags to crawl into at the end of each day as you head off for a peaceful sleep to quality tents (including tents for singles so you don't have to bunk with anyone else if you are a solo traveller).
Your First Night on Quadra Island
Included in your Desolation Sound Kayaking Tour is the first night at one of Quadra's beautiful Resorts. A relaxing start and an opportunity to enjoy Quadra Island as you prepare for the spectacular days you will spend kayaking and camping throughout Desolation Sound.
On the day of your arrival a briefing at the resort will provide you with everything you need to know before launching early the next morning.
Remote Canadian Wilderness
Towering Mountains & Warm Waters
Custom Coastal Cuisine
Quality Expedition Tents
Warm Sleeping Bags
Rich inter-tidal and local wildlife
High Staff to Guest Ratio
Small Group Size
Accommodations at a Quadra Island Resort the Night Before You Launch
Desolation Sound Kayaking Expedition
2022 Trip Dates
June 5 – 10
June 12 – 17
June 19 – 24
Sept 4 – 9
Sept 11 – 16
Tour Itinerary
Day 1
Your arrival day!
Your first night is at one of Quadra's beautiful Resorts. A relaxing start and an opportunity to enjoy Quadra Island as you prepare for the days you will spend kayaking and camping in Desolation Sound. An afternoon briefing is held where we will provide you with a dry bag for your belongings and tell you everything you need to know before launching early the next morning.
Day 2-3
Heart of Desolation Sound
Your guides will pick you up at the resort and transport you to the ferry which will take you to your launch point on beautiful Cortes Island. After your kayak orientation, your first paddle takes you into the heart of Desolation Sound.
As each kayak trip is customized to suit the group's paddling ability and interests, the areas you will explore and the locations you will camp are unique for each trip.
Day 4-5
Non-stop Exploring
Each day after waking from a restful sleep be prepared for something awesome. From encountering wildlife, to hiking through ancient forests, and swimming in fresh water lakes.
Your expert guides each add their own flair to the trip providing a kayaking tour unlike any other.
Day 6
Journey Back
On your last day of your tour you will paddle back to your launch point and be transported back to the Wildcoast shop by mid-afternoon. A relaxing end point where you can hang out, grab a coffee and repack your belongings before heading onto your next destination.
5 Frequently Asked Questions About This Trip
"Fantastic trip. Guides took us through spectacular waters. Saw Humpback whales, seals, and countless birds. Food was fresh, healthy and wonderful. I'd do this trip again in a heartbeat."
TripAdvisor 5 Star Review
"I must say that this trip far exceeded ALL of our expectations. The professional service, the incredible meals and the attention to detail were superb. Oh, the scenery was spectacular too!"
TripAdvisor 5 Star Review
"Cloud nine isn't even high enough to describe the daily paddle adventures we went on. I cannot recommend this trip enough to anyone looking to recharge and relax"