TRIP TYPE



ORCA CAMP KAYAKING TRIP
Tour Overview
Seeing Killer Whales (Orcas) in their natural habitat is breathtaking – imagine sea kayaking where they roam! Capturing this remarkable experience and finding the best spot to go kayaking with orcas is what you will discover when you take a trip to Wildcoast's remote Orca Camp.
ORCAS AND KAYAKING
Canada's west coast is know for it's large population of orcas. As the northern resident killer whales travel down the coast to feed on salmon, you will be right there at Wildcoast's Orca Camp. On this kayaking tour you will launch your kayak into the waters of Johnstone Strait each day in prime killer whale territory. Camp is located next to the Robson Bight Rubbing Beaches.
Livecam from the Robson Bight Rubbing Beaches
GLAMPING IN THE CANADIAN WILDERNESS
Time at camp is an experience not to be missed. Safari sleeping tents, hot tub, gourmet food, and a rambling beach make this kayaking tour Johnstone Strait's best glamping experience.
JOHNSTONE STRAIT KAYAKING
Located next to a flowing glacial stream directly beside Robson Bight, the rambling rocky beach provides spectacular spot to launch into Johnstone Strait. This is prime killer whale territory, the perfect location to experience kayaking with orcas.
Whether you are up early watching for orcas from the beach or heading out for a sunset paddle, time at Orca Camp is relaxing and magical. The best way to escape life's everyday stresses is to spend time sea kayaking, seeking out whales and glamping in the wilderness.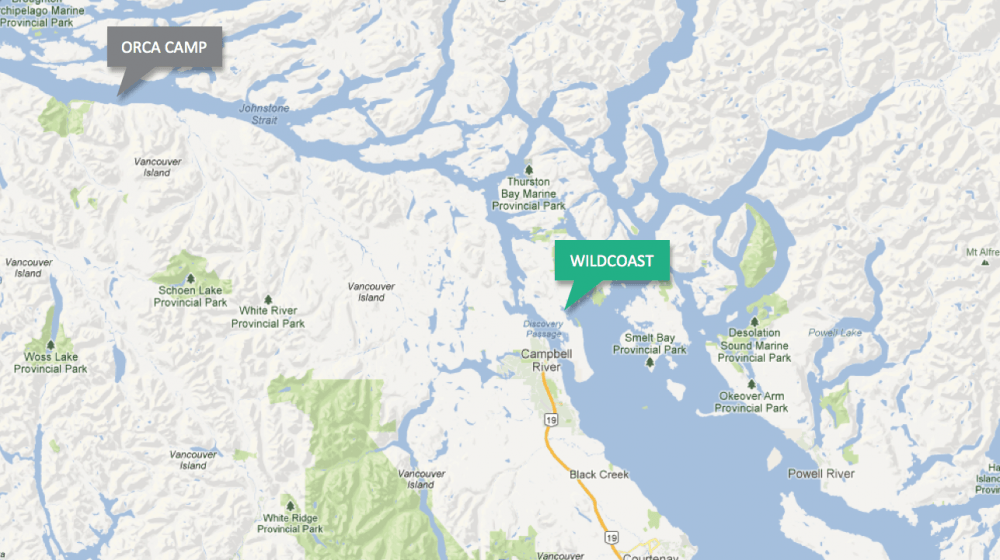 Wildlife: Orcas and Humpback Whales
Located next to the Michael Biggs Robson Bight Ecological Reserve, home to the Orca Rubbing Beaches, camp is ideally located, with a high success rate to encounter orcas in their natural environment. Discover the magic of a wild place, where the Orca play, socialize, and maintain a complex culture all their own.
In the last few years, Humpback Whales have also made a strong resurgence in Johnstone Strait and have often been seen on our kayak trips.
Given their wild nature, you can never be guaranteed to be kayaking with orcas and humpback whales, however your chances to encounter whales in this area is some of the best the world has to offer.
Camp is located in prime killer whale territory
Great opportunities to see wildlife, whether you are out kayaking or relaxing at camp
Custom coastal cuisine designed by Quadra Island Gourmet Chef
Wood-heated common area and dining room
Spacious safari sleeping tents on wood platforms
Comfy beds and warm, cozy blankets ALL provided
Wood-fired Hot Tub and Sauna
Hot water shower
High staff to guest ratio
Small group size
Orca Camp
4 Days / 3 Nights
2022 Tour Dates
July 1-4
Jul 4-7
Jul 7-10
Jul 10-13
Jul 13-16
Jul 16-19
Jul 19-22
Jul 22-25
Jul 25-28
Jul 28-31
Jul 31-Aug 3
Aug 3-6
Aug 6-9
Aug 9-12
Aug 12-15
Aug 15-18
Aug 18-21
Aug 21-24
Aug 24-27
Aug 27-30
Aug 30-Sep 2
Sep 2-5
Sep 5-8
Sep 8-11
Sep 11-14
Sep 14-17
Jul 1 - Jul 10 & Aug 30 - Sep 17
$1749 (CDN)
Jul 13 - Aug 27
$1849 (CDN)
click Book Now to see availability 
Tour Itinerary
Day 1
Boat Ride to Camp
Meet the water taxi at Campbell River Whale Watching in Campbell River at 7:30am. Your expert guide will brief you about your boat ride to camp. The 2.5 hour journey passes through the Discovery Passage and the infamous 'Seymour Narrows' . Sightings of porpoises, dolphins, and whales are common even before reaching camp. Arriving at camp, you'll be greeted by camp staff and settled into your wilderness accommodations. An afternoon kayak orientation will prepare you for your first paddle of this tour.
Day 2
A Full Day of Kayaking
A full day of exploration along the coast in your kayak awaits. While you paddle in killer whale territory listening for orca blows, your guides will provide details about the resurgence of wildlife in this remote part of the coast as well as the ongoing threats to this critical habitat. Not only is being on the water spectacular, but you will also venture inland to a beautiful waterfall where the brave can go for a dip in the glacial waters.
Day 3
Crossing the Johnstone Strait
It's time to venture across Johnstone Strait to the island opposite camp. Kayaking along the shores we will keep a lookout for bears and cubs that often forage on the beach. After the day's paddling adventures we return to enjoy a native sauna and hot tub, a great end to a fantastic day.
Day 4
Last Day at Camp
One last chance for a sunrise paddle on this tour. Soak up the final moments of your wilderness experience while hanging out on the beach awaiting the water taxi. You will arrive back in Campbell River between 3:30 – 5:30 pm.
5 Frequently Asked Questions About This Trip
"Thank you to Wildcoast for an incredible experience. …Seeing the Orcas swim by us from our kayaks was nothing short of magical" 

-Rene
TripAdvisor 5 Star Review
"We booked this trip for an 'experience of a lifetime' as we joked with the guides and were not disappointed – this was a breathtaking trip and one I will never, ever forget."

-Briony
TripAdvisor 5 Star Review
"The facilities were amazing – a hot tub we could relax in whenever we pleased and the best sauna experience I've ever had"

-Kiwi